September 1st
---
0800 – 0900: Breakfast [Dining Hall]
---
0900 – 0930: Accreditation [Reception]
0930 – 0945: Morning Assembly [Mainstage]
0945 – 1030:  Panel discussion Denmark [Mainstage]
---
1030 – 1045: Break
---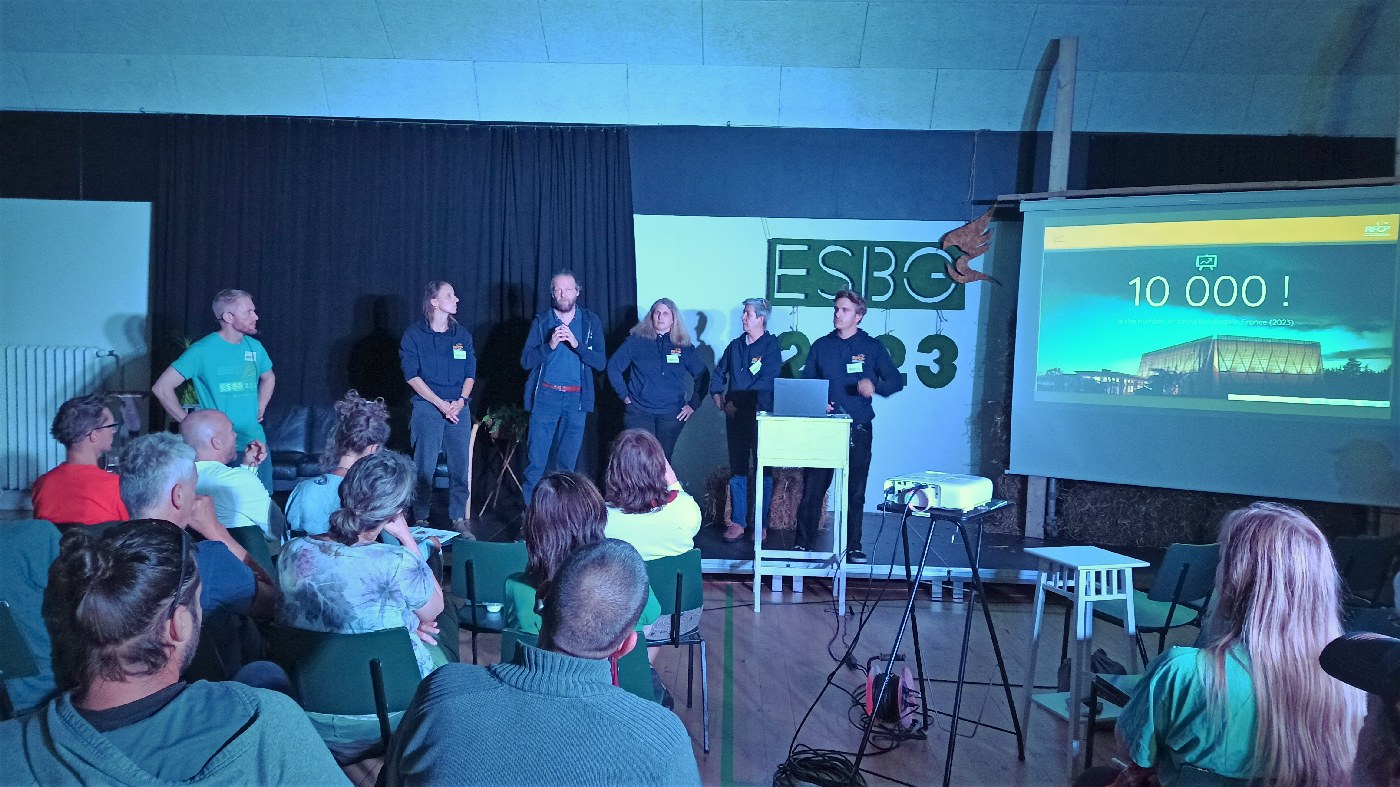 1045 – 1130: Panel discussion France: Making 5000 straw bale constructions and counting [Mainstage]
A success story achieved through coordination, teamwork and collaboration. Hear how regional plans and action can help the national straw bale building sector.
Virginie Thomas (Project Manager of sustainable construction in the Nouvelle-Aquitaine region), Download/view presentation

Clément Galas (Architect and board member of RFCP, the French straw building network), Download/view presentation
1130 – 1200: A swimming pool wrapping project: Germany [Mainstage]
One of the biggest straw building projects in Germany in Oberhausen: 5 out of 7 public swimming pools in Oberhausen were wrapped with straw panels to save energy.
Justyna Tur (Lorenz Panels)
---
1200 – 1300: Lunch [Dining Hall]
---
1300 – 1345: Rebuilding Ukraine [Mainstage]
Synchronisation of sustainable forces for rebuilding Ukraine
Keynote Speaker: Alissa Ban'kovska (Architect) (Modulina)

1345 – 1415: Policy: Overview across Europe [Mainstage]
Diversification in different regions is commended, but why is there such a wide discrepancy in building policies among the European countries? What are the lessons learnt? And what can be done to bring about consistency for the continent?
Cypren Edmunds (Stakeholder engagement) (Strawbale UK)
1415 – 1445: Straw bale architecture in Madrid [Mainstage]
Presentation about the construction of arguably Spain's largest public sector building: Day Center for Dependent People, Meliana, Valencia (Spain)
Shortlisted for 'Spanish Architectural Association Architectural Awards 2023'.
Juan Manuel Herranz (Architect), (Board member of Red de Construcción con Paja)
---
1445 – 1500: Break
---
1500 – 16:30:  Prefab, Potential and Challenges [Mainstage]

Demand in the construction sector is developing at a very fast rate: more homes!
The response to this high degree of requirement in the built environment and the wider consideration of the planet is demonstrated here by these leaders of industry.
Bjorn Kierulf (Ecococon), Justyna Tur, Moritz Reichert (Lorenz), Laurinas (Modulina), Herbert Gruber (vivihouse)

1630 – 1715: Q&A with Presenters [Mainstage]

Energised by the day's presentations and keen to ask that question, this is your opportunity to reflect and dig deeper with the Presenters.
1715 – 18:00: Meet the project makers [Mainstage]

Network with the 'Professionals' presenters

---
1800 – 1900: Dinner [Dining Hall]
---
1900 – 1930: History of strawbale construction [Mainstage]
For his Master thesis, Maciej Jagielak has located forgotten straw bale houses from the past and unearthed unheralded information of the sector's pioneers. E.g. did you know that trailblazer Monsieur Feuilette not only built the world's oldest wooden and straw building, Maison Feuilette, but also many other natural houses?
Maciej Jagielak (OSBN, ESBA board)
1930 – 2000: ESBA's portfolio: From STEP to the Online Learning Platform ActECO to Straw Bale House database and (UPSTRAW) Research [Mainstage]
STEP – Straw Building Training for European Professionals is the main and most complete training for straw bale builders. Modules include: Infill & Prefab – post and beam constructions, Loadbearing Straw Bale, Wrapping (exterior insulation of existing buildings), Finishes (clay, lime, cladding), Building Physics, Structural Engineering and, Cost Calculation and Communication. Incl. plans for the future…
ActECO is the Online Learning Platform for Straw and Earth-Building with many free short courses (Level 1 and 2) and the complete STEP Training.
Straw Bale House Database – searchable by country (European map), technique, topic and tag: More than 2000 straw bale houses as inspiration and template for future projects
(UPSTRAW) Research: huge collection of research documents from building physics to fire resistance, moldfree construction, EPD, availability of straw and much more.
Herbert Gruber (ASBN, ESBA board), Rikki Nitzkin (Board member of Red de Construcción con Paja, ESBA board), Zuzana Kierulfova (President of ArTUR, ESBA board)

2010: Social event
Chat, music and fun by the campfire!